Dad, Mom, Grandpa, Grandma, Uncle, Aunt--welcome!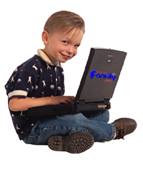 The mission of WE KIDS is to point little people and their families to God through His Son, Jesus Christ.
Because WE KIDS is a listener-supported ministry, you can help by sending a gift. First, give to your church. Then, as God moves your heart, mail a check or contribute on line to WE KIDS. It's an eternal investment in little lives.
This ministry is Family Programs, Inc., and is recognized by the IRS as a 501(c)3 not-for-profit organization. Contributions to this work may be income - tax deductible. We adhere to the National Religious Broadcasters code of ethics. We're serious about honoring God through this work with kids and their families.
I want to help kids and their families learn more about, and live for, God. You too? Thanks for your interest.
Mr. Nick
WE KIDS radio
P.O. Box 44
Red Bluff, CA 96080