with some goodies not heard on the radio
September 11 weekend
Listen with this family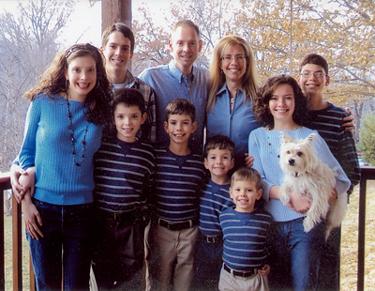 Ever been tricked? Did you laugh? Some tricks are good for a laugh. Then there's the one the Gibeonites pulled on God's people. It had to do with old bread, old bags, and old sandals—and it wasn't funny. You can learn more about this not-funny trick during the next WE KIDS. It's happy and heart-helping radio for little people and their families. WE KIDS!
Isaiah 55:6 is

this week's Bible verse to remember.



Seek the Lord while He may be found,
Call upon Him while He is near.
God can still be found by people. But it won't always be that way. Do you know Him? Listen to
the next edition of WE KIDS for more about this. Here's the fast version.
E-couragement from a WE KIDS listener in tune with KHCB 105.7 FM in Houston: "Dear Mr. Nick, writing to let you know how much you are appreciated for the program that air's on KHCB Saturday mornings. Even tho I am 77 years old (How did that Happen--ha ha) I emagine the little ones marching to the music. Not every one can capture there little hearts like you do. God uses you Mightly... Still Listening. Glynda" [Thanks, Glynda. I appreciate you!]

At home in Red Bluff, we've discovered that one of us likes to, after laboring for hours to put together a puzzle with hundreds of pieces in it, likes to scrunch the thing up and bag it. "Oh, no," says the other. "This work of art is to be kept and admired." After some discussion, we decided to keep puzzles together for 24 hours. Then, after a moment of silence, we will carefully place as much of the puzzle as possible into a storage bag without separating the pieces. This, while the world circles the drain? Sometimes taking a break is good.

And a break that points us to God is the best. Which leads us to the next WE KIDS: Christ-centered and kid-loving radio for families. The next program is here, dears!

Mr. Nick
WE KIDS Radio

PS—The word is that the WE KIDS exit-machine bumps, booms bangs, and clatters. (But I hope it'll get me home.) What do you think it might be?
Like to receive WE KIDS Workings regularly e-mailed to you? Sign up!