with some goodies not heard on the radio
April 10 weekend!
Listen with this family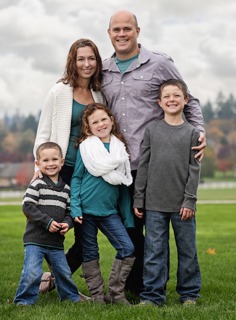 More than anything else in the world, Hannah wanted a son. But she and her husband could not have children. So she cried. And she prayed. But no son. No daughter. No baby. There's more to this, though. And you can find out what happens by catching the next WE KIDS. It really is happy and heart-helping radio for little people and their families. WE KIDS!
Psalm 37:4 is

this week's Bible verse to remember:



Delight yourself in The Lord;
And He will give you the desires
of your heart.
This week's verse is all about
delighting
, not
desiring
. Some people get that mixed up. It's clear during the
next
edition of WE KIDS, though. And, here's this week's
promo
.
E-couragement from a WE KIDS family listening online in Montana: "Hi Mr. Nick, we are so
grateful for your radio show. We enjoy your exit so much...many giggles. Another favorite is hearing all the names...Thank you so much for bringing joy to our home. We are Evalynn (6), Matthew (4), and Boone (2). Thank you again. Wilson + Anna" [You're all most welcome!]
At home in Red Bluff the little crepe myrtle tree in the center of the front yard was nearly dead. Last fall the neighborhood deer herd had munched the poor thing down to its bark. But, new life! (God is really good at this.) This "dead" stick is sprouting new leaves this week and showing promise of new life. And the new deer-squirter is shooing those tree-munchers away whenever they get too close. We might actually be blessed with flowers this summer. Thank You again, Lord.
The next WE KIDS is saying "Thank You again, Lord," too. Hear it for yourself, Kiddo!

Mr. Nick
WE KIDS Radio

PS—Word is that the next WE KIDS exit-machine holds at least 40. What do you think it could be?
Like to receive WE KIDS Workings regularly e-mailed to you? Sign up!